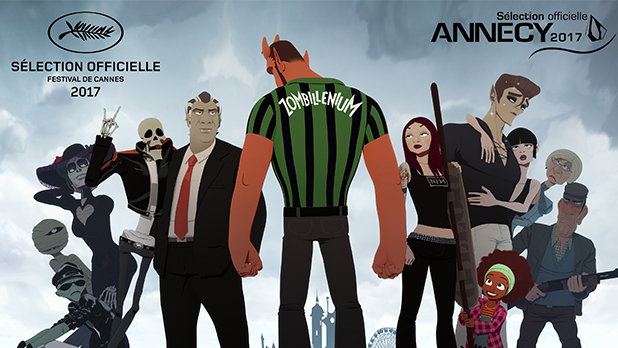 C'est LA grande nouvelle que l'on attendait : Le film d'animation français Zombillénium est sélectionné pour la 70ième édition du Festival de Cannes et sera projeté lors d'une séance spéciale enfants pour l'occasion. Et ce n'est pas tout ! Le long métrage, en compétition officielle, sera dévoilé en film d'ouverture lors du Festival International du Film d'Animation d'Annecy se déroulant du 12 au 17 juin 2017.
Le délégué général du Festival de Cannes, Thierry Frémaux, et son président, Pierre Lescure, ont divulgué jeudi 13 avril la vingtaine de longs-métrages en compétition pour la Palme d'or du 70e festival de Canne, qui se déroulera du 17 au 28 mai. On pourra y trouver les prochains films de Michael Haneke, François Ozon, Jacques Doillon, Arnaud Desplechin, et bien d'autres encore… Au festival de la Croisette, cette année, sera aux côtés des plus grands, une actrice d'un genre particulier. Elle est belle, elle est jeune, elle est talentueuse et c'est une sorcière ! Elle se nomme Gretchen et est l'une des héroïnes de Zombillénium, le film d'animation d'Arthur de Pins et Alexis Ducord, adapté de la bande dessinée éponyme. A ses côtés, joue Hector dans le rôle … d'Hector, le papa désespéré. Le film d'animation sera diffusé dans le cadre d'une séance spéciale enfants, une nouveauté pour le festival de Cannes. Une comédie familiale en 3D, qui nous l'espérons, séduira petits et grands.
Mais avant de fouler le tapis rouge cannois, Zombillénium sera mis à l'honneur lors du festival de cinéma d'animation d'Annecy, qui projettera le long-métrage, dès l'ouverture de celui-ci.  Les férus de musique ne seront pas en reste puisque c'est un concert du groupe Skip the Use qui viendra clore cette journée. Souvenez-vous : le clip Nameless World du groupe de rock français, mettait en scène les personnages de l'univers Zombillénium. Un duo qui semble prospérer puisque Matt Bastard, le chanteur de Skip the Use, prête sa voix à Sirius, protagoniste atypique du film d'animation.  Pour les malchanceux qui auraient raté cette avant-première, une deuxième séance ouverte au grand public permettra aux festivaliers de plonger de nouveau dans l'univers Zombillesque du long-métrage. Rappelons le, avec trois tomes de la BD parus chez Dupuis en France, Zombillénium a connu un certain succès à l'international et touché plusieurs centaines de milliers de lecteurs. Nous espérons qu'il en sera de même pour son adaptation, résultat de 2 ans de travail dans les locaux de Maybe Moovie et de 2 Minutes.